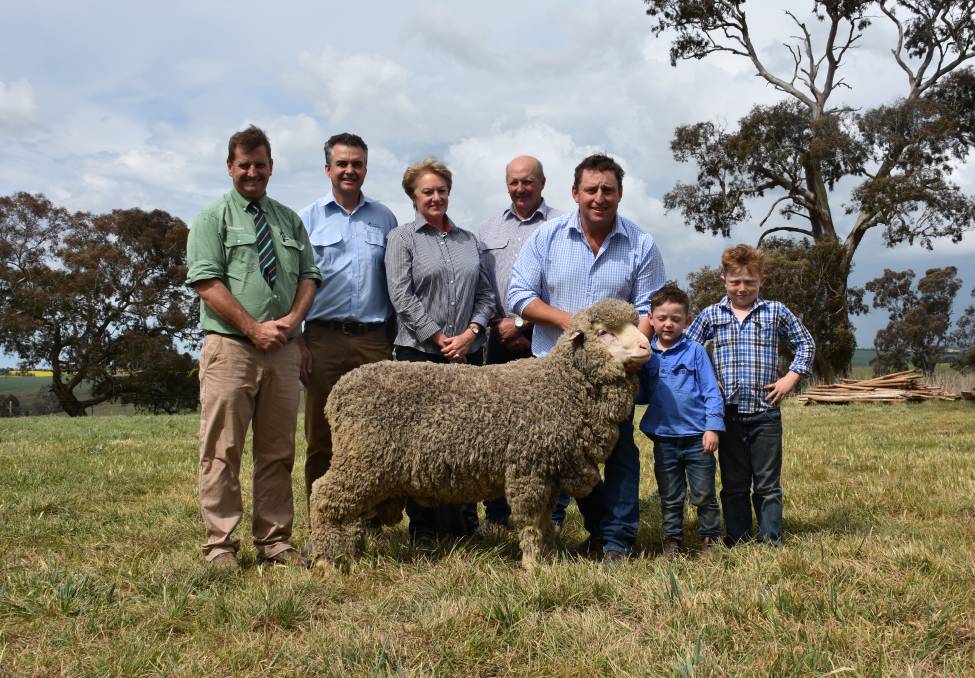 NEW heights were reached by Grassy Creek Merino stud during their 6th annual on-property sale at "Tarengo", Boorowa, on October 9.
The Corkhill family cleared 100 per cent of their increased sale offering, with rams averaging a strong $2625 (up $285 from last year).  Poll Merino rams were popular among the 44 registered buyers, reaching a top of $8000.
Repeat, local buyers Gary and Trish Hallam, "Alton Hill", Gunning, secured the sale topper Grassy Creek 253.  Sired by the Centre Plus 58 sire, the high quality ram weighed 96 kilograms and measured 29 millimeters in the eye muscle depth (EMD) and seven mm in the fat depth.  He had a 15.8 micron, 2.6 standard deviation (SD), 16.5pc fibre diameter coefficient of variation (CV) and a comfort factor (CF) of 100pc.   The GC-253 ram had Australian sheep breeding values (ASBVs) of 130pc for greasy fleece weight (GFW), a yearling weight (YWT) of 3.8 and yearling clean fleece weight (YCFW) of 16.
His dual purpose plus (DP+) was 144, Merino production plus (MP+) of 152 and fibre production plus (FP+) of 148.  Mr and Mrs Hallam said he had a heavy cutting, very stylish fleece. "He is also of a Centre Plus sire and I am interested in seeing how they go," Gary said.  Despite only purchasing one in this years sale, the Hallam family has been on Grassy Creek bloodlines for years buying top rams quite often.
They run close to 5500 Merino ewes and a total of about 9500 sheep, breeding some of their own replacement rams. Grassy Creek Merinos owner Michael Corkhill said he rated the ram as a very productive sheep, reserving the right to collect 500 doses of semen in the future.
The second top price ram of the sale was also a Poll Merino ram that sold for $5000 to Tom Gunthorpe, "Mt Buffalo", Yass, through Craig Pearsall, Elders Goulburn.
Weighing 94kg and measuring 27.5mm EMD and five mm in the fat depth, the Grassy Creek 193 ram was by the Pemcaw 2024 sire. He had a 16.2 micron, 2.2 SD, 13.6pc CV and a 100pc CF. The GC-93 ram had a GFW of 119pc, 2.2 YWT, 13 YCFW, and indexes of 138 DP+, 152 MP+, 148 FP+.
Mr Gunthorpe also secured Grassy Creek 245 for $4250. The top price horned Merino sold for $4500 to Box Hill Partnership, Crookwell.
Grassy Creek 41, by home bred sire Grassy Creek 463, measured 29mm in the EMD, 4.5mm fat depth and weighed 106kg. The ram had a 15.9 micron, 2.3 SD, 15.5pc CV and CF of 99.8pc, with ASBVs of 107pc GFW, 3.5 YWT, 12 YCFW, 136 DP+, 149 MP+ and 148 FP+.
Quality rams sold to multiple buyers throughout NSW and Victoria. Victorian based GF. and RK. Davidson, Walpa, purchased five rams for a top of $4200, averaging $3180 for their draft. Other interstate buyer Colin Heywood, Bowman Forest, Vic, bought four rams topping at $4250 and averaging $3188. A ram sold to Tamworth to Oak Vale Pastoral Company for $4250. Local buyers Willow Bend Station, Boorowa, purchased 10 rams for a top of $2600 and an $1830 average, and Yass based WN. and FS. Swan, bought 10 rams paying a top of $4500 and an average of $3465.
Other local buyers were Eden Brae Past Company, Rye Park, bought six rams; Frombay Pty Ltd, Breadalbane, secured five rams; McGuiness Bros, Bigga, purchased five rams and Phils River Graving, Crookwell, bought five rams.
Michael Corkhill, Grassy Creek stud owner, said he was overwhelmed by the volume buyers from Victoria and all over NSW.
"There were a lot of return buyers with possibly 10 new buyers that all purchased," Mr Corkhill said.
"It was the biggest run of rams we have put up for auction and rams sold well with a total clearance.
"For the last six years we have put 10 kilograms on them for the same micron. Certainly the wool cut is right up there on these sheep." Mr Corkhill said comments from their clients have all been quite positive.
"Clients have said sheep are doing massive lambing percentages, great wool cuts and wether lambs off in record time. It is all quite positive," he said.
Landmark representative Rick Power, Boorowa, said it was a very strong sale with a few new clients.
"The Poll Merinos were highly sort after," Mr Power said.
"The clientele is a wool growing clientele, not a wheat belt clientele."
"Mick Corkhills enthusiasm in genetics and customer service is infectious to the clients and that is why he is so well supported.- Landmark representative Rick Power, Boorowa."