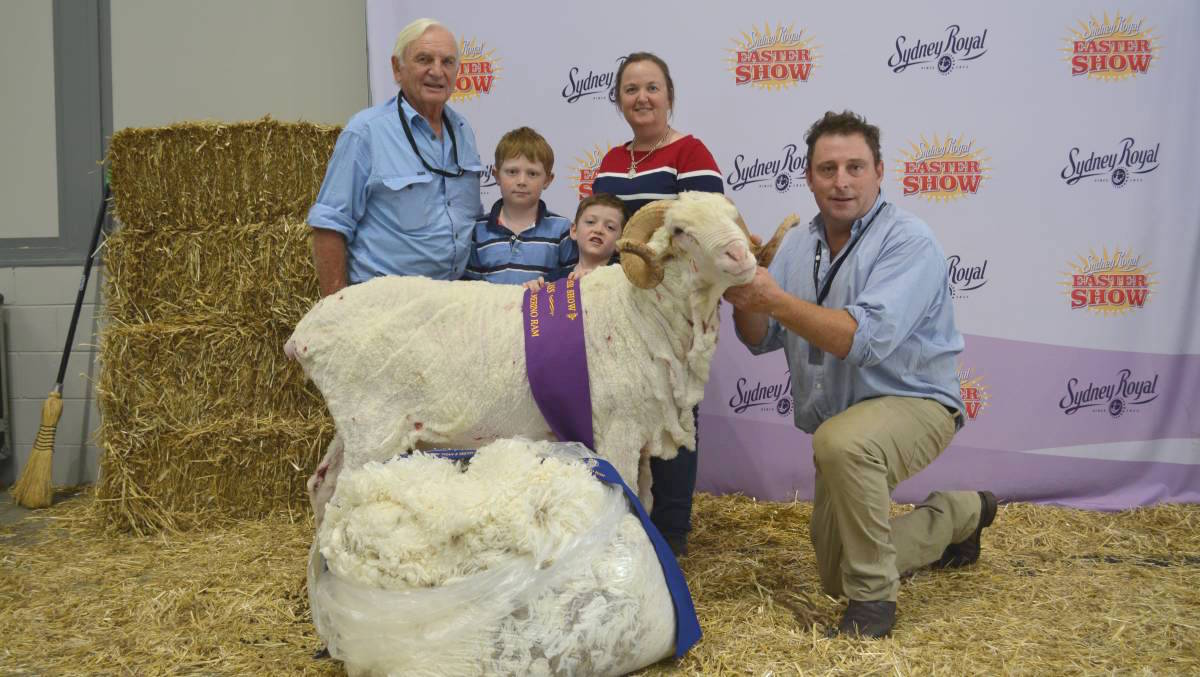 Grassy Creek Merinos have stolen the top spot in the Merino production classes at the Sydney Royal Show, scoring a total of 574.5 points with their Grassy Creek 160042 ram.
The two- to four-tooth Merino ram exhibited by the Corkhill family from Grassy Creek Merinos, Boorowa, was by Grassy Creek 463 "Mundy" and from Grassy Creek 110078.
Racking up an impressive high point score, the ram cut 14.3 kilograms of wool at 15.9 micron with a yield of 69.1 per cent and fleece value of $302. It had a fibre diameter co-efficient of variation (CV) of 22pc with an eye muscle depth (EMD) of 33mm, fat depth of 10mm, body weight of 112kg and was given a subjective measurement of 95.
Earlier in the week, the GC160042 ram placed fourth in the fine-medium wool class and was said to be "consistently up front" by stud owner, Michael Corkhill.
"The ram is bred well with both its sire and dam having a strong show history," Mr Corkhill said.
"Its sire, Mundy, was the champion fine-medium March shown ram at Bendigo in 2015, the reserve champion March shorn fine-medium wool at Canberra in 2016 and the reserve champion fine-medium March shorn Merino in Sydney 2016.
"Mundy also won senior production ram two years ago cutting 17.6 kg at 16.7 micron as a six-tooth ram."
Second place across the board for the rams went to the Rayner family from Grathlyn Merino stud, Mudgee, with their two- to four-tooth Merino ram which scored 534.5.
A six-tooth and over ram, exhibited by the Chapman family from Hinesville Merinos, Delegate, received third overall with a point score of 527. The Hinesville Status Quo ram was first place in the senior production class section and recorded the highest body weight of the section at 148kg .